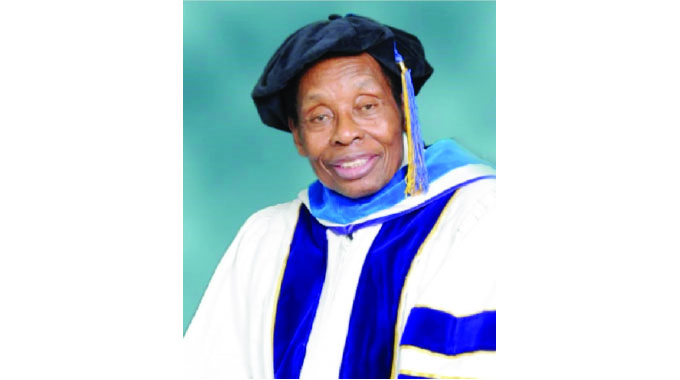 Harare Bureau 
ELECTORAL contestations should never be used as an excuse for fomenting violence and hate speech, practices that have no place in a God-fearing country such as Zimbabwe, President Mnangagwa has said.
Addressing a huge gathering attending the send-off ceremony of the late national hero and founder of the ZAOGA FIF International Ministries, Archbishop Ezekiel Handinawangu Guti, at the National Sports Stadium yesterday, President Mnangagwa called on Zimbabweans to preach peace, unity and love ahead of the harmonised elections on August 23.
"As the people of Zimbabwe, we reject violence, hate speech, division and disunity. These have no place in our God-fearing and Christian, democratic country. We want peace and unity before, during and after the harmonised general elections. Development and prosperity can only be accelerated when we are united and when we love one another. Elections come and go, but Zimbabwe and our family ties remain forever. Let us never tire of preaching unity, peace and love."
President Mnangagwa called on the Church to emulate Archbishop Guti, whom he described as "a true champion in promoting the welfare of the vulnerable, disabled, women and youth".
He said the late national hero was a unifier, who believed in economic and social justice for all, and championed transformative social initiatives in the health and education sectors to uplift the lives of ordinary people. The late national hero's belief in hard work and productivity, added the President, should be inculcated in the younger generation to ensure the country's growth and development.
"The Forward in Faith Children's home, dressmaking schools, Zimbabwe Ezekiel Guti University, as well as Mbuya Dorcas Hospital and Health Centre were established by the late national hero. In so doing, he ensured that the church played its part towards a higher quality of life for our people. In his honour, I challenge ministers of the gospel of God to remain alive to the fact that, for a society to truly develop and prosper, our people must be uplifted from poverty into prosperity. Our people must be encouraged to work. Nyika inovakwa, igotongwa, igonamatirwa nevene vayo, Ilizwe lakhiwa, libuswe, likhulekelwe ngabanikazi balo."
Archbishop Guti, he said, espoused values of discipline and encouraged continuous personal improvement through hard, honest work, as well as production and productivity.
"The school of talents — 'matarenda' — is one of his signature philosophies, which nurtured self-reliance at household and family level. We, the remaining generations, must come forward with our talents to serve our families, communities and the nation at large, as we build our motherland, Zimbabwe. As we celebrate the homegoing of the late national hero, collectively, let us never give up in our quest for a brighter future, through modernising, industrialising and growing our economy."
President Mnangagwa also said Archbishop Guti lived an exemplary life, which must be emulated.
"Going forward, it is our expectation that the church will continue to feel and carry the weighty responsibility of safeguarding, preserving and promoting the rich influence of our national hero, Professor Guti. The late national hero, Archbishop Guti, did not teach how best to live, he simply lived by example. Throughout his life, he remained a man who exemplified the fatherly heart of Almighty God; a fervent intercessor, as well as passionate soul-winner, preaching the true and undiluted gospel of God."
Archbishop Guti knew no tribe or race and he gave love to all, said the President.
"As today's Christians, it is crucial that we be unapologetic hearers and doers of the Word of God. This is important in these times of the growing defilement and onslaught against our Christian faith. As we do so, may the life of our late national hero be a source of inspiration and encouragement for us all. In bidding farewell to this humble man of God, let us honour his                                                                           legacy by emulating and following in his footsteps and continuing the work that he passionately pursued."
President Mnangagwa also laid wreaths on Archbishop Guti's casket. He was accompanied by First Lady Dr Auxillia Mnangagwa, Vice President Dr Constantino Chiwenga and his wife Colonel Miniyothabo Baloyi, ministers and other senior Government officials. Later, 100 pigeons were set free, representing Archbishop Guti's long life. The send-off ceremony was attended by a colourful crowd drawn from across the world. Leaders of various church denominations were also in attendance.
Archbishop Guti died in South Africa on July 5. He was 100 years old. The burial date and place is yet to be made public.